Top 15 BEST Libraries in The World | Most Beautiful Libraries in the World | Coolest Libraries Ranking List 2023 – 2024 | Best Value Schools | Ranking The Top 15: The library is still loved by many regardless of the modern medium of reading books. Libraries are located at school and colleges to develop the knowledge of students. However, the public library supports to develop all people. These libraries sever as a good reference point to clarify all doubts and help to obtain knowledge in different fields. Now, most of the libraries are integrated with advanced technology and internet facilities. The below listed are some of the most famous libraries in the world.
Related: Top 10 Universities in the World 2023 | Global University Ranking 2023-2024
Top 15 BEST Libraries in The World | Coolest Libraries 2023 | Best Value Schools | Ranking The Top 15 Librarys
---
15. Library of the Benedictine Monastery – Admont, Austria
This is one of the largest monastery libraries in the globe. It has 70000 volumes, with manuscripts of 1400 and 900 incunables. The monastery was established in the year 1074 by Archbishop Gebhard. The ceiling of the library is designed with seven cupolas which elaborate the human knowledge progression.
14. National Library of Sweden – Stockholm, Sweden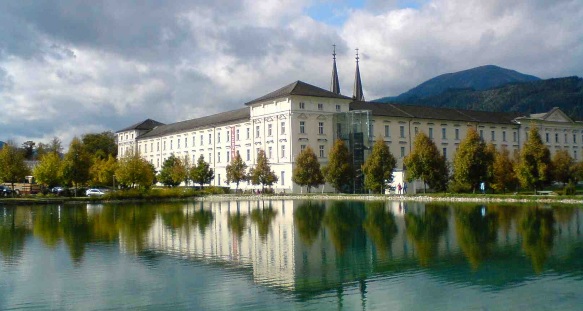 All Swedish printed and A/V content is preserved in this library. This library is famous for holding a 13th-century copy of 'Devil's Bible'. This library managed to hold more than twenty million materials.
13. Austrian National Library – Vienna, Austria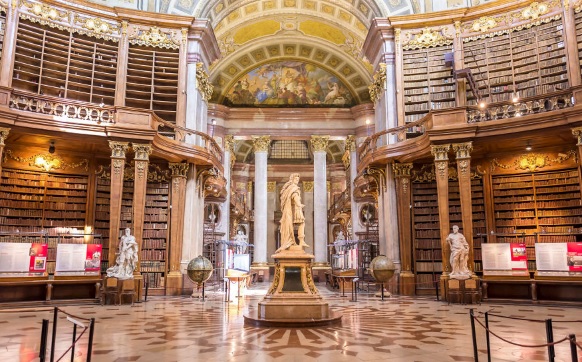 Most of Austria's publications collection is managed by this library. Furthermore, they have the best global collection and some rare books from the fourth century. This library holds 7.4 million materials and it is located at Hofburg Palace.
12. Abbey Library of Saint Gall – St. Gallen, Switzerland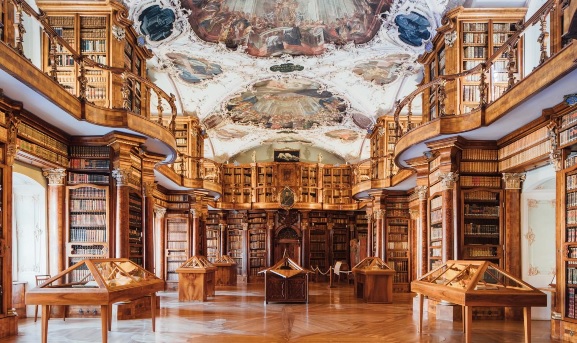 This is the oldest library located in Switzerland. This library was established by Saint Othmar and it is one of the oldest libraries in the world. This library has a huge electronic database to share more than 1900 books online.
11. Seattle Central Library – Seattle, Washington, USA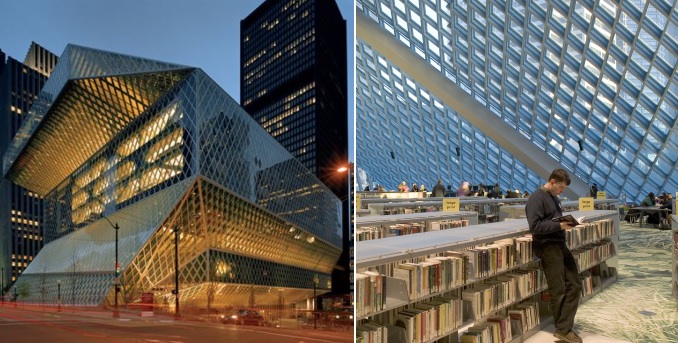 This library was established in 2004 with the latest architectural design. There are 1.45 million books and several media contents are stored. This is one of the biggest libraries with expensive renovation.
10. Thomas Fisher Rare Book Library – Toronto, Canada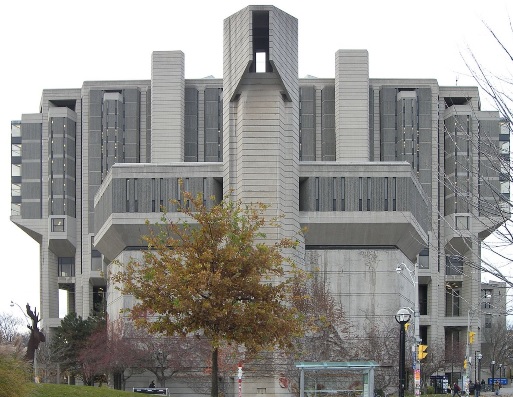 This library started in collaboration with the University of Toronto. They hold very rare books collection like Newton's Principia (1687), the Nuremberg Chronicle (1493), and Babylonia cuneiform tablet (1789). Furthermore, they also have a very rare book collection.
9. New York Public Library – New York, USA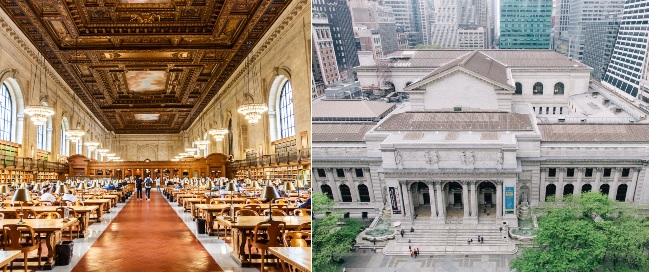 This is one of the largest libraries in North America. They hold fifty million materials and serve 3.5 million people. America's first Gutenberg Bible is stored in this library and also has many Americana literature.
8. Library of Parliament – Ottawa, Canada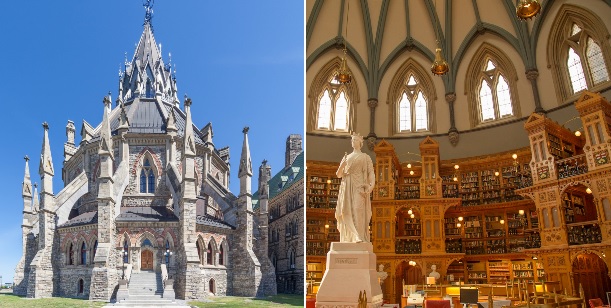 This library is very famous and its likeness is printed on the ten-dollar bill. It contains more than six hundred thousand materials and maintained by 300 staff. This library is limited access to the public.
7.  Boston Public Library – Boston, Massachusetts, USA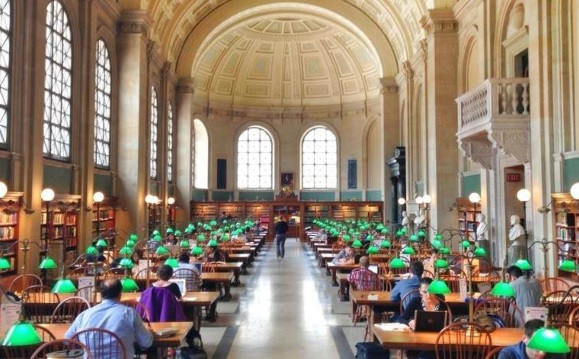 This was established in the year 1848 and holds 22 million materials. This library includes very rare collections like Shakespeare and also includes American history like Nathaniel Bowditch and John Adams.
6.  National Library of St. Mark's – Venice, Italy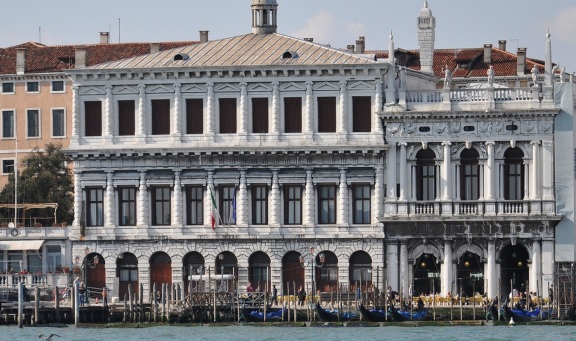 This library holds the most important collections of old books around the globe. Although the collection of the library started in early 1468 due to long construction duration, it was not commenced until 1537. As of today, there are 13000 manuscripts, 2883 incunabula, and sixteen century's collection of more than twenty-four thousand materials.
5.  Vatican Library – Vatican City, Rome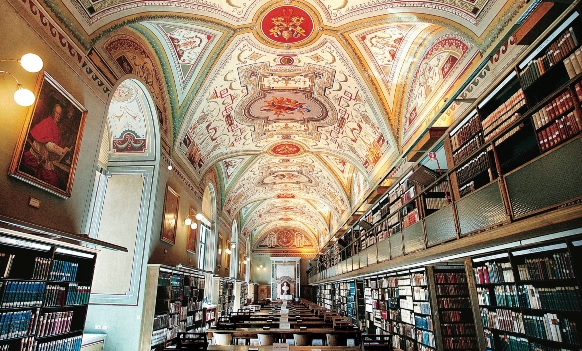 This library is one of the oldest libraries and operates under the jurisdiction of the Catholic Church, Rome. This library was established in 1475 and holds the major collection of old books for more than 600 years. Presently they are holding 1.1 million printed books, 75000 manuscripts, and 8500 incunabula. They started to digitize rare materials since 2012. Moreover, this library is famous for keeping the oldest complete Bible manuscript. It also serves as secret archives for the Vatican and helps in research for law, theology, science, history, and philosophy.
4.  Yale University Beinecke rare book and manuscript library – New Haven, Connecticut, USA:

This library serves for preserving rare books and manuscripts, therefore it outstands as one of the best libraries in the world and it was established in 1963. This library has unique soft light and glass walls to prevent direct lights. They have forty-eight copies of the Gutenberg Bible. Furthermore, this library attracts tourists due to special design and works. All materials are not circulated and can be used only as a reference.
3.  Reading Room at the British Museum – London, England:
This reading room is located at Museum's great court in the British Museum which was established in the year 1857. The domed building with special interior design remains as a unique concept. However, many books were dispatched to the new British Library in 2000. They gave access only to the registered users but also they open to the public based on the appointment basics.
Related: 10 Most Genius Child Prodigies of the World | The 10 Smartest Kids In The World
2. Bodleian Library – Oxford, United Kingdom: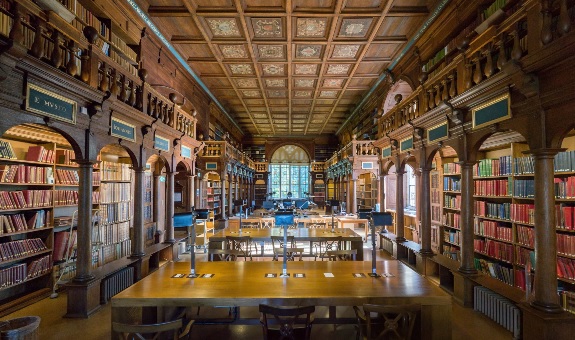 This library was established in the year 1602 and stays as one of the oldest European libraries. There are more than eleven million materials which include Gruenberg Bible and First Folio of Shakespeare (1623). This library contains oriental manuscripts and very good collections of local history and English literature. Furthermore, they have 13 million printed materials, special collections, like manuscripts, etc. The library gives access only to the registered members. However, the public can access via an online portal.
1. Library of Congress – Washington D. C., USA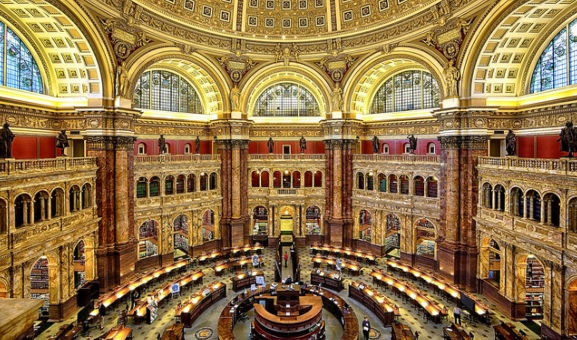 This library is the oldest federal cultural institution and serves as the national library. Although this library consists of only three building the shelf space is the largest in the world. This library attracts more tourists. However, the research institution is open to Supreme Court justices and high officials. The library maintains some of the books in the digital form and they are available in the online catalog. Overall this library is holding 164 million materials.
Conclusion: Top 15 Ranking Coolest Libraries 2023 – 2024
Despite several electronic media, still, the requirement of the library is vital. The library not only used to preserve the rare books but also to serves as a good reference and guidance especially to research students. Moreover, the library promotes the habit of reading books which is important regardless of the advance digital availability. list of top Best Beautiful Libraries in the World